I was recently asked how to make Bump maps for Morrowind. So being the guy that II am I made a new chat channel that was dedicated to making Bump maps for Morrowind. I did a short(ish) tutorial on how to add Bump maps, and Reflection maps in Nifskope.T he following is the same tutorial for those that might not have been around to see it
Nifskope Bump mapping:
In Nifskope I will be bump mapping an Iron Tanto. I have some things to unpack from the BSA though before I start.
I would like to point out that you can not do bump mapping with out first obtaining a program or scripts for Gimp/Photoshop to generate normal mapping. Or you can use crazy bump.
Before I start I also would like to also remind every one that a normal map name should follow the following format "Texture_name_N" this is not necessary but it helps to keep things straight and easy.
OK so the first thing you are going to want to do is generate a Bump map of the item you want to add a bump map too.
This can be done with the fore mentioned Bump map making program ( I use Crazy Bump), or scripts for what ever imaging program you use. There are scripts for Photoshop, and gimp, but I will not post the links here as I have never looked for them and have no links to post.
Next you are going to want to create a texture that sort of looks like an out of focus blurry picture of the side of a  black and white cow. it should look a little some thing like this :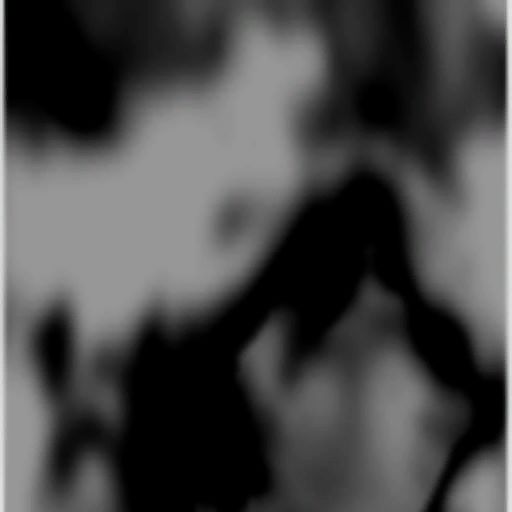 Kiteflier61 says Gimp's cloud generator is a wonderful tool for those.
So if you have that you can use that to make your blurry cow image.
Something you should know is that the darker the reflection texture the less the shiny it will be (this is the exact opposite of the gloss map and how it works, but I am not covering that this time around).
OK so what we want to do is open Nifskope, and open the Iron Tanto mesh. you might want to unpack the three textures that go with the Tanto, but Morrowind will find them in the BSA any way even if you do not unpack them. All you need is the reflection texture, and the normal maps for this tutorial.
I will start by selecting the handle of the Tanto with my right mouse button this will open up a drop down menu.:
next I will select where it "node", and select where it says "Attach Parent Node"
on the next menu I will select where it says "Ninode":
This will add a new parent node to the handle of the Tanto. I will next right click on the new node of the tanto, and select again "node", and follow to attache effect:
This will open another smaller menu to choose effects from. Select where it says "NiTextureEffect" :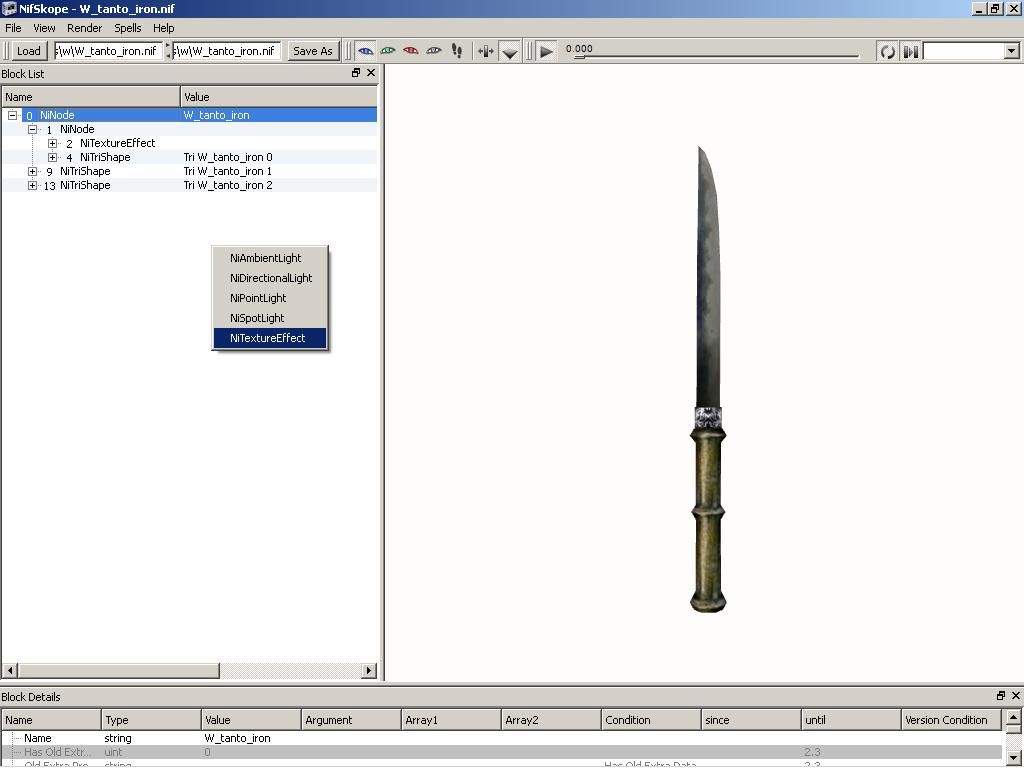 After you have followed the first steps it will add a new line under the Ninode you added that says "NiTextureEffect" with a little purple "rose" this is where you want to put your reflection texture: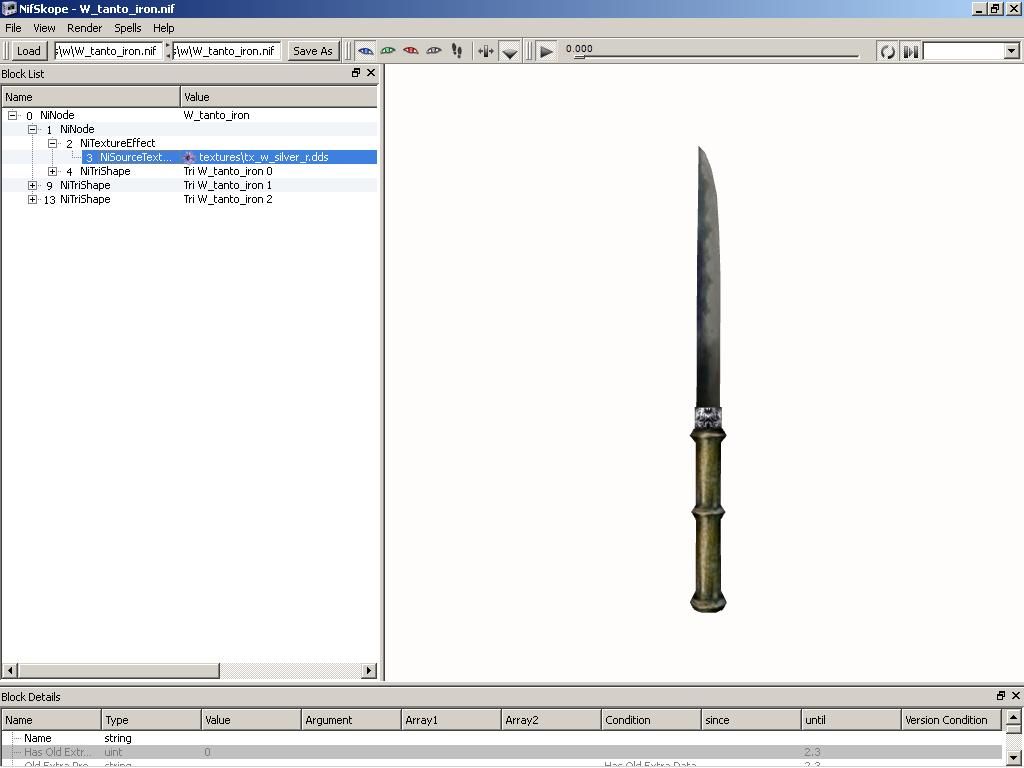 If you have followed my instructions correctly then you have officially made the handle of the Tanto Shiny. The amount of shiny you get from the wall depends entirely upon how dark your reflection texture is (or your environment map if you use one of those.) and how bright your gloss map is (but I am not dealing with gloss maps because you do not need one to bump map)
Phase one complete.
Now on to phase two.
OK where was I, Oh yeah the actual Bump map. I will need some more time to get screen caps of that process.
To add the actual texture map. First we want to make sure that we are still on the same node that we have added our shiny cow texture.
Open the part where it says "NiTriShape",and right click on where it says "NiTextureProperty".
A new drop menu will pop up, select texture -> add bump map: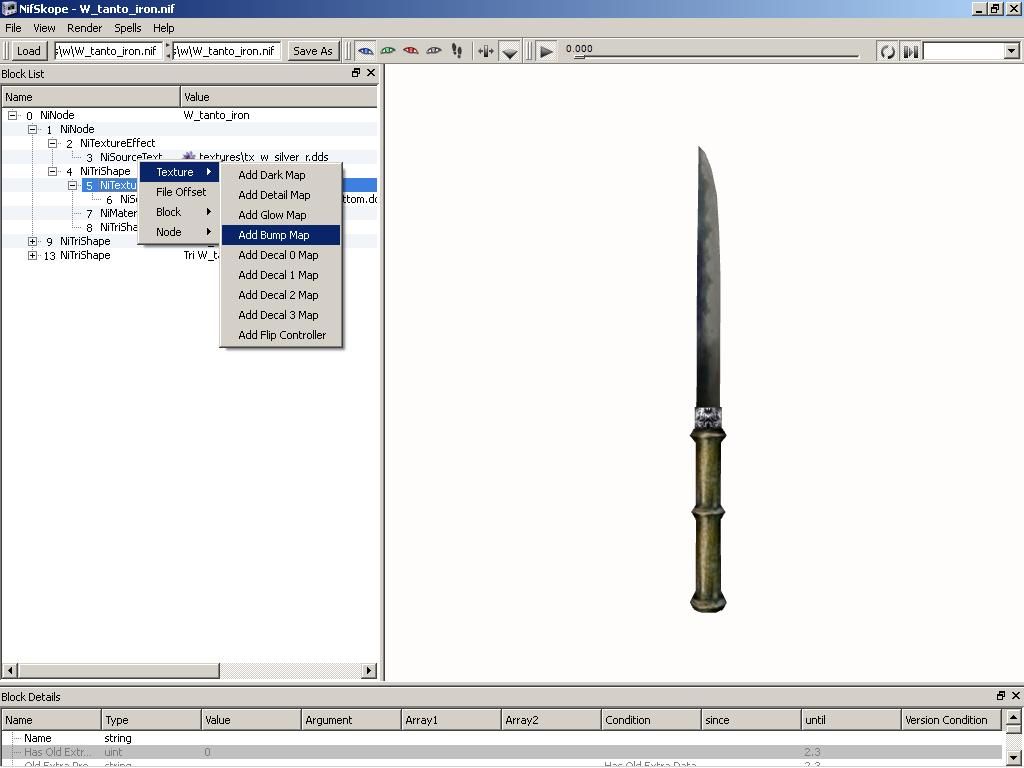 It will open a new texture property line with another little purple rose,and (nice thing I think) it will automatically open the browse window to the same folder as the one you used for your reflection texture folder. so you can select the bump map.
You will want to make sure that the texture you select will be named the same as the base texture with the "_n"on the end :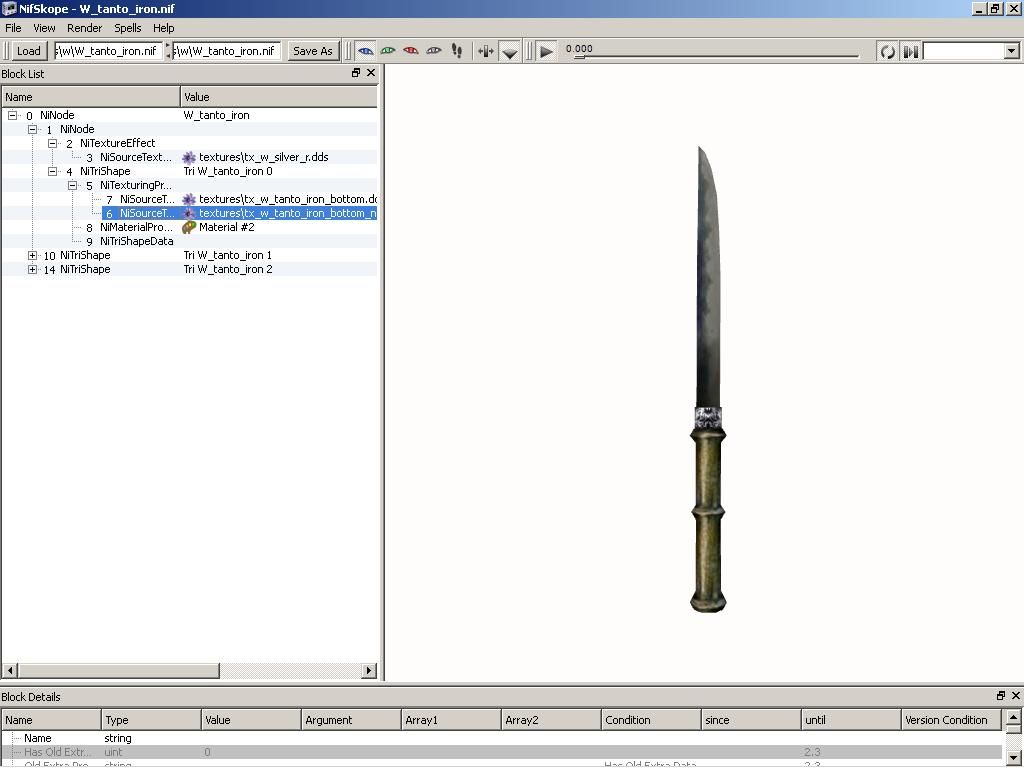 Notice:
that this will make the handle of the Tanto very shiny in the CS, and in Morrowind due to the reflection texture. you may remove the shiny, and leave your tanto still bump mapped if you use a plain solid black texture instead of the blurry cow.
or you can darken up the blurry cow image to a point where it is almost solid black this will allow for some reflectivity.
I will tell you how.to get a bump map with zero shiny to it too.
I used a blank black texture for my reflection on part of the compass I though shouldn't be shiny, and it is still bump mapped.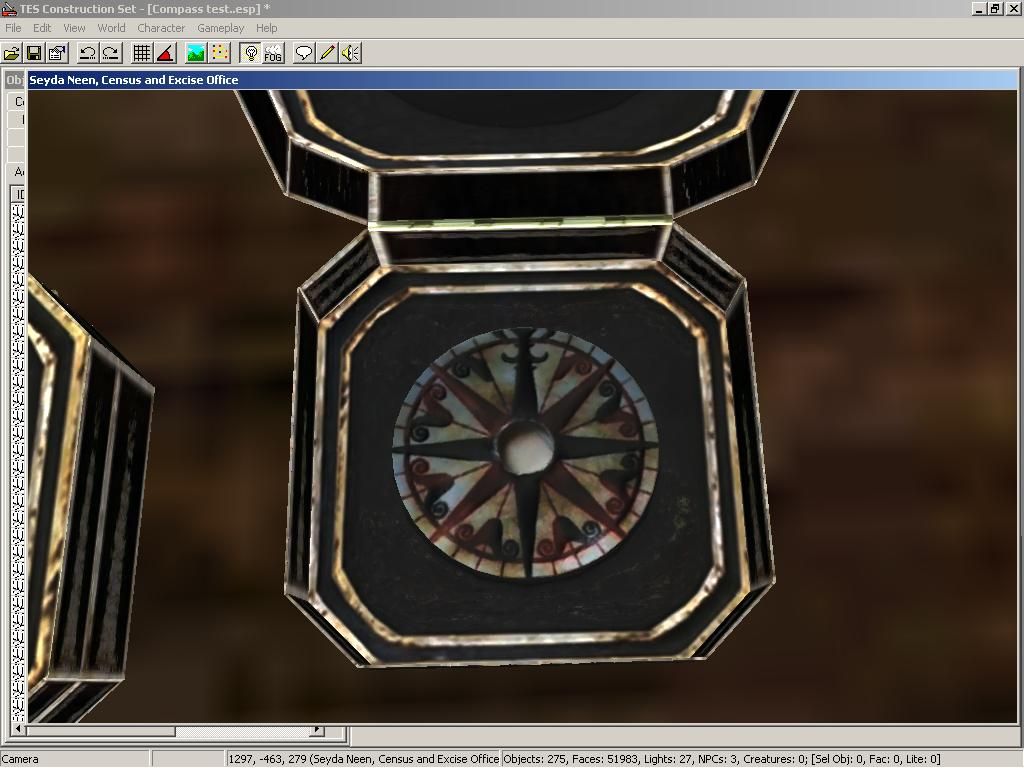 normal maps create the reflective surface for the shiny so that the piece does not look like a shiny piece of glass.
The rosette in the compass is bump mapped, and has no reflection. I will grab the image with the lights low to illustrate.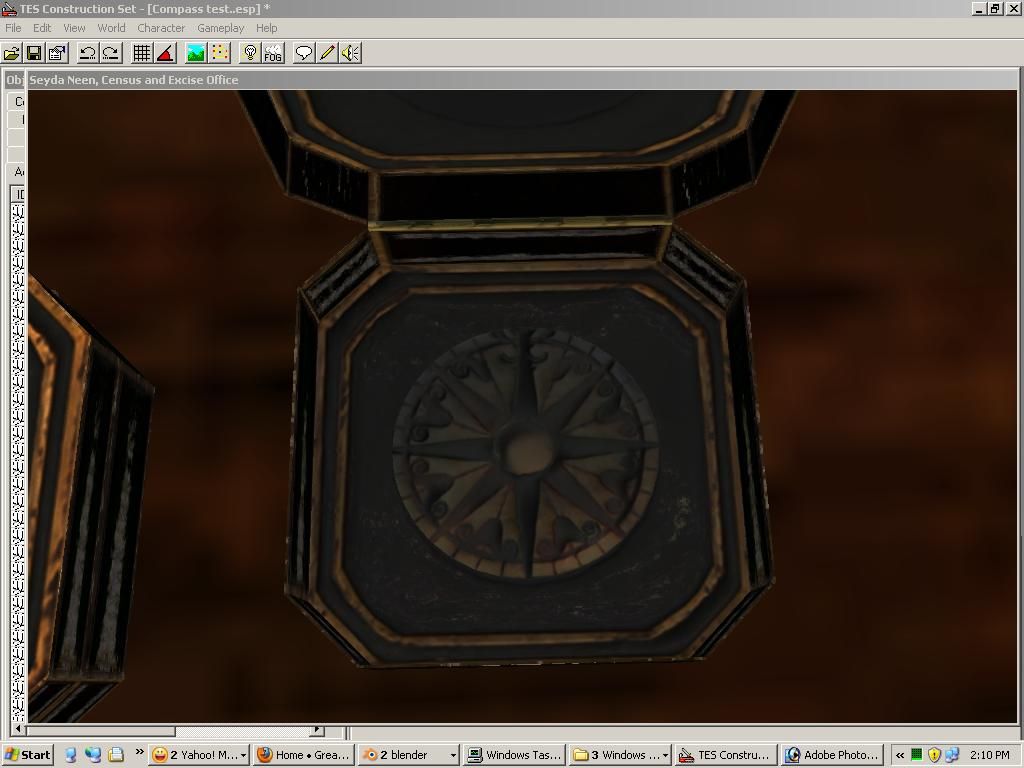 make it a solid black texture instead of the environmental map, and the bump will still be there but the shiny will not.
Well the rosette in the compass is the only thing that I have used it on, but I think it will work with other projects.
Here are some questions I was asked after the Tutorial was over:
Q) Does the bump map need to be in TGA or DDS format?
A) I use DDS. But if normal texturing can work as a tga I see no reason why a bump map wouldn't. However as I have never tried it I can not say for certain.
Q) Heya Drakk, is the bump immediately visible in nifskope?
A) no it is not you can look at it in the CS though.
Q)Is step 1 required for step 2?
A) yes you must follow all steps involved.
Also I will read any questions you guys might have if you post them here. I will try to answer them for you.
I will try to find the time to make a Blender Tutorial some time tomorrow.