Okay, the name and story-line has been decided, along with secondary companions
Name:
Jaden
Age: 19
Race: Imperial (Demon in disguise)
Storyline: Jaden is a young 19 year old demon, sent to the world above to perform
his
final test which will remain secret for now, I won't spoil it. It involves killing someone in Morrowind. However, he is unsure about having any intention to kill anyone, due to a strange fascination with Nirn. But he does search for the person, but he has no sense of where that person is. Confused, frustrated, and unaware of how to contact his superiors, he decides to get a job working as a dock worker in Seyda Neen (not really much by choice) and begns working to get some money. A whopping 1 gp per week. Three weeks later, you step off the prison boat, and after giving those really rude guards the finger, and receiving your orders to visit this Caius Cosades douche, you run into Jaden close to Arrille's tradehouse, leaning on a load of crates, sweating his poor as* off. You talk to him, and find out he isn't such a bad guy, and it looks like he could use some help moving those heavy-a** crates. With your first load of crates, Jaden unlocks the docks gate for you, and the two of you proceed to stack all those crates near the docks. Thanking you....with the 2 gold he made so far (2 because the other was pick-pocketed by some smelly Wood Elf) , he asks where you are headed. You tell him you are headed to Balmora to visit a man named Caius Cosades. And possibly have a few adventures. The idea sounds much better than dock work to him, and he asks if he could tag along. You agree, and the two of you begin your adventures together in the land of Vvardenfell, and possibly, Nirn.
During your journey you are joined by 4 others
First by,
Kusajishi Yachiru
, who has the appearence of a young pink haired girl. Having a cheerful and very funny personality. But it doesn't seem like she is what she seems, especially after you see her beat the crap out of a bandit. Jaden often picks on her, more friendly, and Yachiru does the same.
Age: 5 ? Maybe? (37)
Gender: Female
Race: Shingami
Class: Shinigami
Alignment: Chaotic Neutral
Second by,
Michael Valentine
(yup, me), a seemingly young Dunmer vampire with evil looking wings. People often seem pretty PO'd when he's around. But they don't attack him because he's with you, which seems to PO him a lot as well. Has a strange dis-liking for the Cammona Tong, often starting fights with them, despite your calming him.
Age: 22
Gender: Male
Race: Dark Elven Vampire
Class: Nero Scythe (New class added, both a mage and warrior, but stronger in warrior stats.)
Alignment: Neutral Evil, a bit of a harsh way of putting it.
Third by
Aria Stormheart
, or as we all know her as.....(drum roll)...........(expecting something yet?).......
silver_fox_rival
! No background or how she ends up joining the party yet, but she is Kalimer, and she is a Mage, and a part of the Mage's Guild!
Age: 16 (Elven years)
Gender: Female
Race: Kalimer, or Light Elf (meshes and textures added to the mod)
Class: Mage
Alignment: Lawful Good
Fourth by,
Eon Devalence
, A mysterious, older, yet very young looking man who you found talking to Jaden during the middle of the night while you were trying to sleep. Eon ends up accidentally waking your whole party. He decides to leave but Jaden begs you to have Eon stay with your party, and despite Michael's protests, you agree, and so does Eon. After a brief argument between the two, you pick up the fact that Eon and Michael somehow knew each other, and their past doesn't seem good, and always have a bad relationship with each other, though it later begins to become much better.
Age: 34 (actually 1065)
Gender: Male
Race: Imperial (Really a Demon)
Class: Battlemage, Doubles as a Savant
Alignment: Lawful Good
[OPTIONAl] Fith by,
Miserina
, yeah. You heard me right...M-I-S-E-R-I-N-A. Who unfortunately, I have to admit, is the most evil one on this site. She gave me permission to place her in my mod, so here we go. Miserina joins the party last (I think, so far.) after attempting to kill party members Michael Valentine, Aria Stormheart and Yachiru while they were all in Balmora. She ends up kidnapping Aria's sister, Valery, who was ironically also in Balmora, and forced the party to go after her. You'll rescue Valery either way, but in order to unlock Miserina as a companion, you have to either
A. Persuade her to give Valery back to you...somehow.
B. Knock her unconsious while fighting her and force her surrender (Bad Influence Starter)
If you succeed, congratz kids, you've unlocked Miserina as a companion either way(though if opt. B is chosen, it's still somewhat hidden). If you chose option A, then get ready to use those oh-so-good persuasion skill again. She'll stay at her hideout untill you convince her, or convince one of your companions to convince her. If it's option B, she won't really have much of a choice, but it won't do well for her starting influence level.
Age: 18
Gender: Female
Race: Dark Elf
Class: Assassin
Alignment: Chaotic Evil
I'm still trying to decide if I should add 2-3 more, I don't want it to become a huge party of companions, but it's a lot of fun to have in-party interaction.
Another thing, the alingment of these individuals cannot be changed. They are all fixed, and only Jaden's can be changed. One more thing, you won't be the only role-model for Jaden, often the rest of your companions will give him advice, and it will have an influence on his alignment and other things.
Here are a list of some of the current ideas/already placed features...if there are three stars placed next to a feature, it has already been added.
--------------------------New Crap That Allows An Excellent RPG Experience.---------------------------
---The Influence System (partly completed)
This will always determine your relationship with him. I always thought the disposition crap was too easy. So long as you had a decent speechcraft skill, you could literally become friends with everyone in Balmora. And in three seconds. I stole this idea from KOTOR 2 The Sith Lords. Disposition basically becomes your "Daily" relationship with the comp, while influence is "Lifetime". At some points in the game, you will be able to help your Comp out so much, that influence will never drop below certain points. But certain "touchy" topics aren't available without some degree of influence.
---The Alignment System (partly completed)
This was stolen from the Neverwinter Nights series, and D&D. (Wow I'm a nerd.) Depending on the Comp's actions, and yours, his alignment will change. The titles from Neverwinter Nights are in here. (Chaotic Evil, Chaotic Neutral, Chaotic Good, Neutral Evil, True Neutral, Neutral Good, Lawful Evil, Lawful Neutral, and Lawful Good) I know these were in the Partners Mod, but not to such an extent. The alignment system changes topics, dialogue options, and adveture experiences. And their is one point in the game (it is YOUR choice to perform) where the companion will have a very troublesome, near-death, and teaching experience and will ask you to help him search for a deity to worship. Depending on the deity he selected, he will forever remain true to it, and will criticize you whenever you do something that isn't somewhat reflecting to it, resulting in potential influence and dispostion loss. This is a very complex system, just as the influence system is.
---House Mod
This mod focuses on the companion, but adds a whole lotta other stuff as well for a better gameplay. There will be a point in the game where you will be granted the right to build your own stronghold (like the great houses) by the Duke (again). At this point, the two of you can not only adventure together, but solo as well. You will receive the command "Go home" and he will return to the castle/manor. However, he's not just gonna "wait up for you". He will do his own stuff while you are away that includes managing the stronghold, adventuring, collecting loot (for him and you), AND even goin as far as to search for a girlfriend/boyfriend. Yes, romantic ventures play a huge role in this mod, but unless he has a crush on YOU (that can happen, depending on certain factors) he will start searching for a girlfriend/boyfriend. I know I've said he in many parts of this mods, but I'm still trying to decide whether or not to make it like The Underground (opposite sex), choice (you choose female or male), or fixed (I choose the sex, that's FINAL!) I'm off topic. While he's out adventuring, you may be able to find him in dungeons adventuring (small chance, considering the size of Morrowind). And if you don't want to spend time looking, use your telepathy ring, or a button at the stronghold named "Call Back [Companion Name]", it may annoy him sometimes if you use the button, but it WILL get him back to the manor. This whole thing will be a cool feature, as it offers realism to the game.
---Sharing Options
Not only do you have the option of Companion Share but a few other things as well. On solo adventures, the companion makes his own money, and he'll get some money every week from what he says is a "Certain Special Source" before ending the conversation quickly. If you have good influence, you will be able to borrow money, though never more than 50,000 gold, regardless of influence or romance. And he will expect you to pay him back at least some money before you are able to start borrowing more money. During solo adventures, he will get his own loot, and will share a portion with you. (He'll place it in your "loot chest" at the manor in your stronghold)
---
(NEW!!)
His own stuff!!
Okay. I've begun work on scripts that aside from solo adventures, he'll also go into towns and buy stuff for himself. I had to think on how to put this into scripting, bt I found a way. He'll shop for stuff with his own cash, after all, aside from borrowind money from him, what use is it for him to have cash if he doesn't use it?
---World Interaction
During his solo time, you'll see that he will interact with NPCs, if you can find him, sometimes he'll start brawls, have other adventures with other adventurers (In which you may be able to get in on), etc. Or he may just talk to people. I still haven't really decided on everything here.
---Other Companions Added By This Mod
Even if you have other companion mods, it can get a little boring without some other adventurers at your side. That's why I'm going to add some other companions with just slightly less interaction than the main companion. I've already decided on one. Due to that she is my favorite anime character of all time, I am adding (drum roll)
KUSAJISHI YACHIRU
from the anime show Bleach!!! YAAAAYYY!!! Thanx to modders such as Ren and Louis, the hair and face(sorta) are available.
---Main Quest (Both his and yours)
He will have a huge interaction with your main quest, and you will be able to go through his(I've yet to decide what the stroyline will be, see CURRENT CHARACTER IDEAS section for details) However, during the course of the main quest, he will interact with it a lot. Such as, my favorite, during your battle with Dagoth Ur in the heart chamber, if your health is too low, a scene might play where you are immobolized, and the comp MAY sacrifice himself to save your life (depends on influence and romantic interests), driving both himself and Dagoth Ur into the lava, after your encounter with Azura, his spirit appears and thanks you for everything you did for him before fading away. That's just one of the cool cut-scenes. Another involved with the Corprus Disease, makes him contract it as well. (Divayth Fyr will heal him) but it will give him a whole new out-look on things, and it adds the same immunities you get.
---Dialogue
I'm still juggling with some of my ideas here. I did want to create a special script that makes him talk to people as you are, often adding comments or chatting with the individual, but it may create a lot of compatability issues. Then again, I WILL be creating game patches, so...I'm still trying to decide. But overall, he'll comment on almost everything. I MEAN everything, if you're radining a daedric ruin, he will comment on such things as if you kill the main preist, he'll comment on it, AND it logs this in his Logging Script so that when you come back, he'll recognize the place. He'll comment on your actions, and based on his intelligence, he can help you solve those oh-so-difficult-riddles (from different mods too). And dependent on his willpower, he can be tempted to press on or get the h*ll out. Both offering certain bonuses and penalties to him and you. He will comment on stuff even when you aren't in dialogue using message boxes.
---Mod Patches
Oh yeah. I'll probably be creating a bunch of these. Wouldn't it be fun to have Synda/Johnny Rains and the companion working together with you? Commenting on each other, Dialogue together, a bunch of advanced stuff? Or wouldn't it be just pwn if he comments on everything in the Horror Mod by MentalElf? I'll likely be creating a bunch of these.
---Voice
I don't know whether or not I should record voices. I don't have a recorder, but I think I may be getting one. If I do add voice, I'll release it in a seperate ESP, because it would be a lotta MB, just by itself.
Those are a few of the RPG ideas.
-------------------------Current Up-to-date-----------------------------------------------------------------
-Will have everthing Julan has had plus some stuff that was excluded. ***
--------------------------New Commands-------------------------------------------------------------------
---- Guard This Spot ***
A perfectly designed command in The White Wolf of LoKKen has been added. There was a special command in The White Wolf of LoKKen that allowed you to have companions "Guard This Spot", it used encumberence to make them stay in one spot and cover the player with marksman skills. Unfortunately, it didn't turn off the warping script, or at least not on my version. With a simple local varaible, I made it so that the encumberence thing works, the companion is still "Following" but the warping script, and levitation with the player is disabled. Only flaw is that if the player grabs the encumberence thing, another one appears in the Comp's inventory untill the command is disabled. However, the "Combat Eggs" are disabled as soon as they are in the player's inventory.
Now, with this updated "Guard This Spot" command, you can easily set up ambushes, or check-points, allowing you to run back while your comp shoots the living h*ll outta them.
---Town Teleportation ***
---Robbery
(COMPLETED, FINISHED AND READY TO GO!!)
Tell the companion to go rob a house and then meet up with you in the local tavern. Only works at night, and only while in towns/cities. If your companion is unsuccessful, he will be jailed, and you'll have to either pay to get him out, or wait untill his sentence is over, if you wait, his disposition will drop every day he's in there, and after a while, so will his influence. If he is successful, he will give you half of what he made(1/4 if his alignment is -50 or below), however, this command will make his alignment drop down somewhat. This command is only available through special training anyway. As an added feature, (one I broke my back on), if you decide to do a little moon-lighting yourself, you may meet up with him in one of the houses and perform joint-robbery attempts. ::: Unfortunately, this feature isn't really awesome unless you have mods such as Living Cities of Vvardenfell, due to the fact no one seems to want to really go anywhere in Morrowind. I mean, how fun is it to just walk into a house, steal crap with your Comp while the tennant is on the 1st floor just watching you do it. :::
---Go Home
As I said, there will be a chance for him and you to build your own house, this allows you to send him there.
That was just a few of the commands, just about ALL of the commands from Julan Kaushibael are here.
As I said, that's just
A FEW
of
THE MANY
ideas and features.
--------------------------------------COOOOL
 New Items going into this mod-------------------------------------
An EXCLUSIVE evilish crimson gem that
silver_fox_rival
made that's going to be in this mod. Really, you won't find it anywhere else.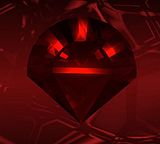 -------------------------------------------------------------Music-------------------------------------------------------
I'm breaking my back to get permission for this stuff. (MySpace is a help) But here's a small list of some of the music going in my mod.
Artist   ----    "Song"
----------------------
Stone Sour - "30/30 - 150"
Mercy Drive - "Burn In My Light" (you know, Randy Orton's theme)
KoRn     -    "Falling Away From Me"
KoRn     -    "Evolution"
Hell Yeah   -  "You Wouldn't Know"
12 Stones   -   "Adrenaline"
Lacuna Coil -   "Heaven's A Lie"
Mushroomhead - "13"  (their cool version of Crazy)
Dethklok    -    "Awaken Mustakrakish"
Slipknot     -    "My Plague"
Slipknot     -    "Duality"
Slipknot     -    "Psychosocial"
Slipknot     -    "Left Behind"
Marilyn Manson - "Sweet Dreams"
Rev Theory   -   "Light It Up"
Linkin Park   -   In The End  (On the advice of Maiqdabomb)
To Metallica Fans: The reason there is no Metallica currently is because...they would kill me.
Anywho, that about raps it up. First, I need some name, I need to get a few things done before I can start collaboration...
-------------------------------------------------------HELP WANTED------------------------------------------------------------
This won't be untill I get the character and storyline set, but if you want to help out, I can use you. AND I NEED HELP. I cannot finish a mod like this within the next few months without aid. I promise to anyone, so long as you helped, even if it was just with ideas, your name will go into the credits. (I'm keeping a list) But here is a list of the kinda help I'd like.
- Mesh and Textures
I may be able to script, but I can't create any meshes or textures. At least not good ones. Anyone with this kinda experience would be appreciated, but you need to be pretty good. I'm going to be using Better Bodies.
- Just Plain Scripters and Quest Modders
Yeah. *Ahem* I can't really do all this by myself within the next few months which is the planned release date. I need some help with it. If you can script pretty well, and create pretty good quests, I can use your help.
- Veterans
If ANYONE can get me the aid of people like, Emma, AlienSlof, and U Fliggerty, CD Cooley. It would be most appreciated. Vets are always a great help.
- Idealists
Hey. If you can come up with an idea that just pwns, then your part of the help.
- Beta Testers
If I can get some of you to test for me, that'd be nice. I don't want any errors.
- MWSE Scripters.
Okay. I don't really know how to work with that kinda stuff. I'm a normal genius scripter, even though I am learning the run-down of MWSE scripting.
Anyone can be a part of this. If nothing else, you can fit into the Beta Tester and Idealist catagories. And ifget any help, I'll be forced to cancel this mod.
----------------------------------------Expected Compatability Issues----------------------------------------------
*Sigh* I hate these. I'll do everything in my power to prevent them, but sometimes, you just can't stop them. This IS supposed to be a mod that compliments a bunch of other ones.
--------------------------------------------------------File Size and Computer Compatability-------------------------------------------
I know the file will probably be bigger than The Underground, and maybe Mournhold Expanded. As for Computer Compatability, if you can run Balmora Expansion, and Living Cities of Vvardenfell together with just some problems, I don't think you'll have any problem with this despite the many global scripts.
---------------------------------------------------------Contact--------------------------------------------------
E-Mail me here      mikeyvalentine93[AT]hotmail[DOT]com