kittybrod wrote:

silver_fox_rival wrote:Hey D_L what looks good on marble?

Velvet?

Satin?

Silk?

Here is one of the marble Jewelry Boxes that I made:

Sea Green Marble Jewelry Box (Back of the Box)

Sea Green Marble Jewelry Box

I'll figure out what color to place inside the upper and lower parts of the box. BTW, this is the other size I was talking about for the boxes.

Oh, I like that green.  Perhaps on the inside maybe a bed of green (matching the darker green of the marble) satin of velvet?  or again, a dark blue satin or velvet.  I can't wait to see the other marbles and other jewelry boxes side by side...
Okay how does this look. I made some custom silk for it in one picture and the other picture texture. Tell me which looks the smoothest?
Custom Silk Texture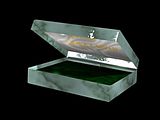 Image Textures
On the top part of the box where it says "'Xells Crown Jewels" I need to make the font smaller. I'll fix that.