With recent MGE developments, new graphical possibilities are open.
I write a shader to insert lightning bolts in great distances.
Some previews, note I am not a texture artist: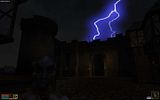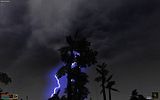 This is far from done, if I can fix shader side problems, this will need a script to go with. Like timing, randomness and sound.
possible features:
better glow,
animated multiple bolts,
local ground may be lit...
complications:
I have no idea how to do view tracking. It is fixed in screen, follows the eye right now.