Title: Kagz Cauldron Resource V2
Version: V2
Author: Kagz
Download:
Readme:
.............. Kagz Cauldron Resource V2 ................

UPDATE:

This mod has now been updated to contain an additional silver cauldron.

The texture was kindly donated by "Sassman".

Thankyou very much.

......

This is a modders resource only, it places nothing ingame.

In fact there is no ESP, only the meshes and textures are included.

Ok, the stock game cauldron is giant sized and it has a non-openable lid.

So i took it into Max and removed the lid,

so that now you can see whats in the cauldron,

instead of just being like a container,

with the list of stuff in it.

I then reduced the size to 40%,

although the meshes can be made larger if so required,

simply by using set scale in the CS,

or by adjusting the scale with NifSkope.

I also made a food surface mesh and textured it with a stew texture.

It fits neatly inside the cauldron, to give the look of, full of food.

The food surface mesh is just a flat circle mesh,

which is mapped Planar,so its simple to change the texture to any you desire.

The resource contains:

small lidless cauldron with stock game tex.(which you already have)

small lidless cauldron with steel tex.

small lidless cauldron with rust tex.

small lidless cauldron with silver tex, thankyou to "Sassman".

food surface mesh with stew tex.

You are welcome to use these mesh and tex in mods.

Just give credit for the work done.

The mod is 461 KB Unzipped.

You can contact me at

ravenfife@lycos.com

or at Wolflore forums.
Three small cauldrons: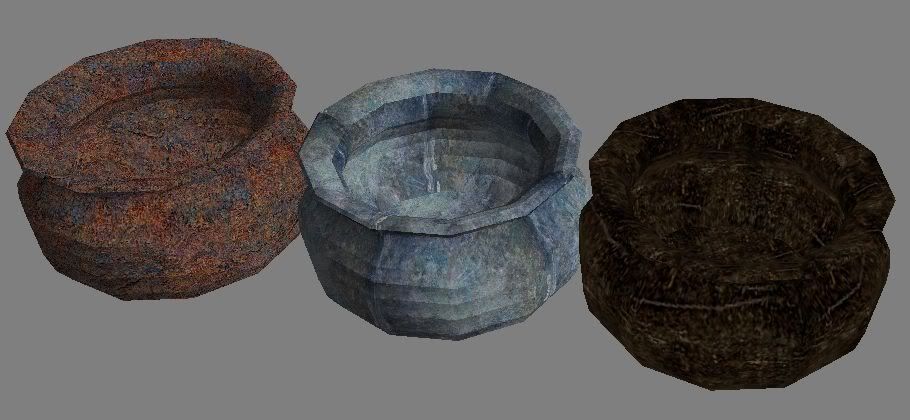 Food Surface mesh: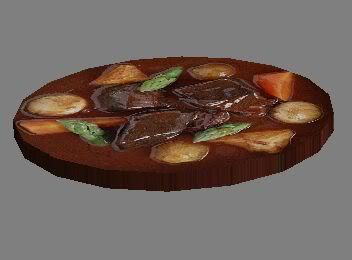 Surface Mesh in place: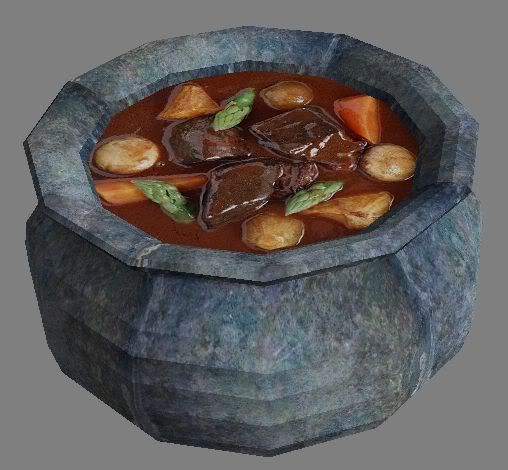 Compared to the smuggler to show size: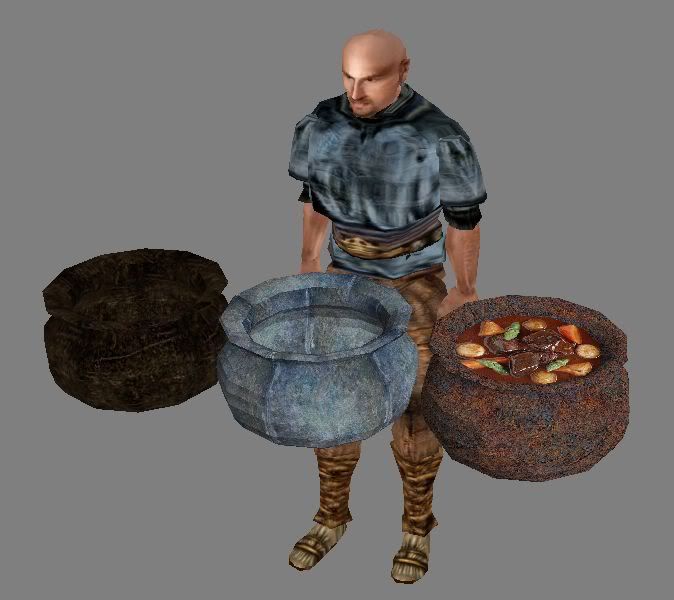 Additional small Silver Cauldron: