I'm very happy to present to you  
A Bard's Life
, a mod that tries to cover as many aspects of a Bard's life as possible:
*
Play music using a lute and a music sheet
Your first quest (may be skipped) is to learn the intricacies of the Vvardenfell lute. As your level increase, you will be able to quest for more complex lutes. The lutes are sheathable.


*
Earn gold playing for patrons in inns.
Once you have a 'playing lute', patrons will happily hire you to entertain their patrons. Your pay will depend on: your reputation as a bard, your speechcraft, personality and agility.
Performing as well as practicing takes time, so be careful if you use NoM.
*
Collect new songs
Chat with friendly bards, defeat aggressive ones, find music books or compose your own music. A total of 40 songs to collect.

*
Collect instruments
Ask bards about lutes and instruments, they'll tell you which traders have very unique instruments for your collection. They can also point you towards other bards.

*
Meet your fans
The more you perfom in inns, the better your pay and the greater your fame. Publicans will offer a complimentory gifts when you work for them, adoring fans will have small gifts for you.
*
Become the owner of your own inn.
With popularity come business opportunities. Become the owner of the Jolly Troubadour and make it the best inn of the land, generating monthly profits. Listen to what npcs have to say as your inn makes a name for itself.(npcs no shown on the screenshot as well as last modifications)

*
Enjoy your private quarters
Your private quarters have a simple alchemy lab, a small but cozy bathroom, room for your collection of instruments, a mannequin for your bard amrour and a desk to compose music.
*Keep your loot safe in the basement
The inn has a large basement with ample storage. The basement also have a plate and cup and bottle display, that's right, now you have a reason to steal these otherwise worthless items.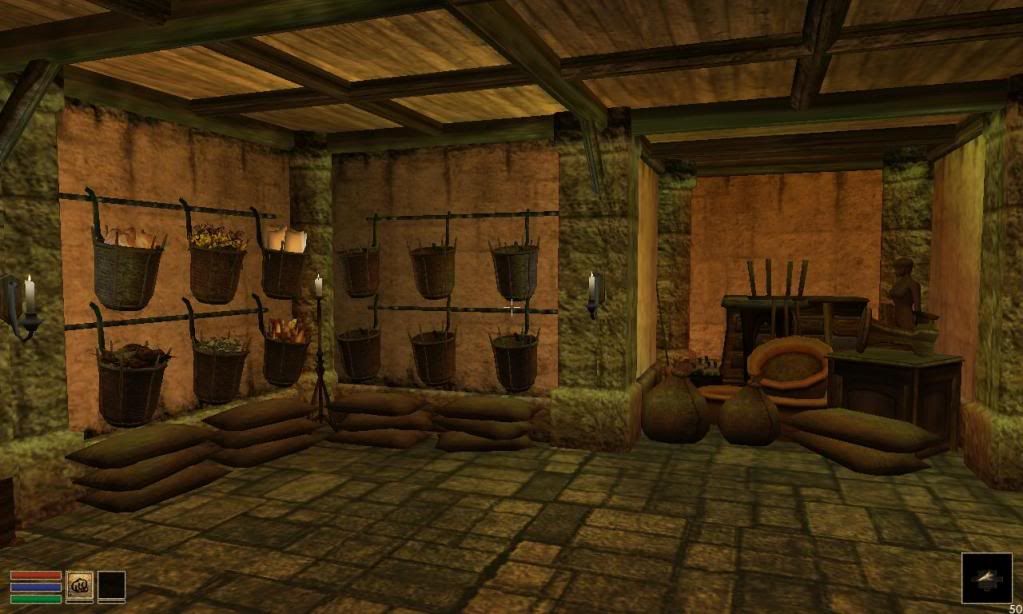 *
Travel with a good friend
Find Irullan in a tomb near Seyda Neen. She has all the features expected of a companion as well as some specific to you (as a bard) and to her class (she's a scout). Among other things, she'll set up camp during your travels, detect creatures, tell you how famous you are and give you hints.
*Spellsongs
(with the A Bard's Life - Spellsong.esp)
Every song you collect allows you to play the song of course, but also gives you a spell.
As long as you have 1/ a playing lute equipped, 2/ the music sheet in your inventory, you get the spell.
These spells only cost half the mana they would normally need to cast and never fail.
On the down side, casting these spells does not improve your magic skills.
As you get better lutes (based on your level and bard experience), the spellsongs become more powerful.
*New bard class (with the A Bard's Life - Spellsong.esp) and new birthsign
The wanderer

The Bard
Bards are loremasters and storytellers. They crave adventure for the wisdom and insight to be gained,
and must depend on spellsongs, potions, and enchantment to preserve themselves from the perils of their educational
experiences.The Bard travels the land with his companions. Well versed in music and lore, he makes a living
playing his lute in taverns. Even though he is lacking in combat skills, his music can strengthen companions
or weaken enemies.
-> Major skills: acrobatics, alchemy, sneak, speechcraft, unarmoured.
-> Minor skills: alteration, athletics, enchant, light armour, mysticism
       Choosing this class will make gameplay more challenging, a couple of companions are highly recommended)
*What else?
Hum, a pretty set of armour (seen in the private quarters screenie)
Free booze in the basement (with NoM) and a daily free meal from your waitress.  
A Gondola ride! Courtesy of Abot (scripts) and Archimaestro Antares (the animation +mesh), the inn has it's own gondola sailing across the lake!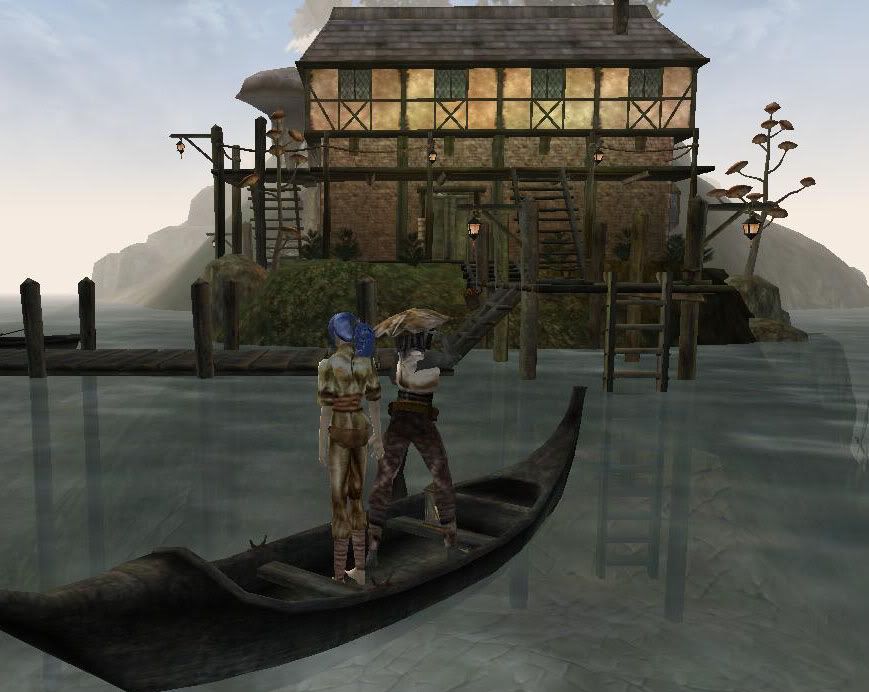 So, if you like a Bard's life is for you just click on the download button and the music files is with the additional files below the main download.